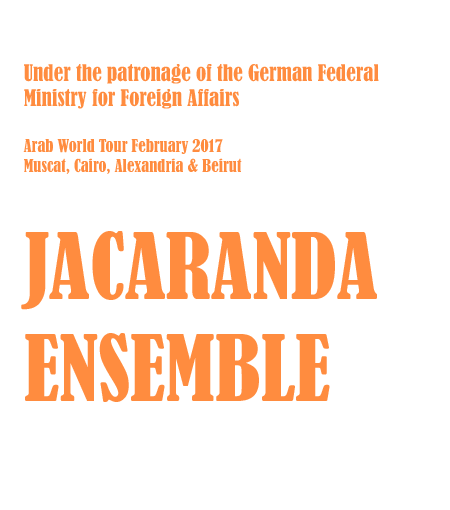 Arabesque International was founded in 2012 by the Egyptian German pianist Ahmed Abouzahra, General Manager of East West Art Promotion (Germany, Egypt).
[unex_ce_button id="content_wbleric9s,column_content_fsp8a8w2q" button_text_color="#ffffff" button_font="custom_one" button_font_size="28px" button_width="auto" button_alignment="left" button_text_spacing="0px" button_bg_color="transparent" button_padding="10px 60px 10px 60px" button_border_width="1px" button_border_color="#ffffff" button_border_radius="0px" button_text_hover_color="#000000" button_text_spacing_hover="0px" button_bg_hover_color="#ffffff" button_border_hover_color="#ffffff" button_link="/about-us/" button_link_type="url" button_link_target="_self" has_container="" in_column="1"]learn more[/ce_button]
CONTACT INFORMATION
OMAN OFFICE
P.O. Box 287 
P.C. 134 Jawharat Al-Shatt, Shatti Al-Qurum,
Muscat, Sultanate of Oman
Tel.: +968 2449 4553
Fax: +968 2449 2080
[email protected]
EGYPT OFFICE
385 Ramsis Street, Ramsis,
Cairo, Egypt
[email protected]
GERMANY OFFICE
Weimarer str.26
69514 Laudenbach, Germany
[email protected]
–
Ibn Battuta
The Winged Traveller
In collaboration with the Royal Opera House Muscat. Under the patronage of the Ministry of Commerce & Commissioner General of Oman's Pavilion at the Expo Milan 2015 supported by the Ministry Of Tourism, Oman Airport Management Company, Oman Arab Bank, Oman Air & Duqm Special Economic Zone Authority.
[unex_ce_button id="content_wbleric9s,column_content_dszr7w3cx" button_text_color="#ffffff" button_font="custom_one" button_font_size="28px" button_width="auto" button_alignment="left" button_text_spacing="0px" button_bg_color="transparent" button_padding="10px 60px 10px 60px" button_border_width="1px" button_border_color="#ffffff" button_border_radius="0px" button_text_hover_color="#000000" button_text_spacing_hover="0px" button_bg_hover_color="#ffffff" button_border_hover_color="#ffffff" button_link="/work/ibn-battuta-winged-traveller/" button_link_type="url" button_link_target="_self" has_container="" in_column="1"]more about this event[/ce_button]