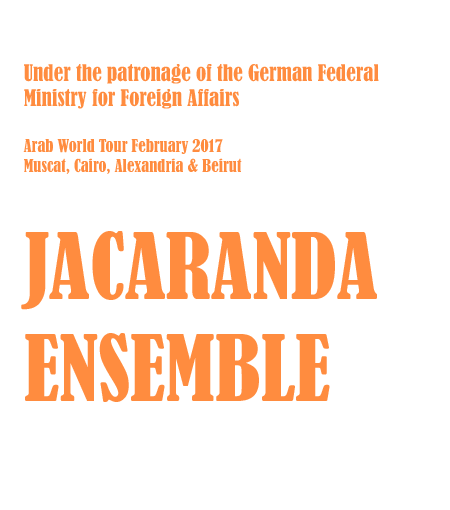 Under the patronage of the German Federal Ministry for Foreign Affairs.
06 Feb.; at 19.30; Oman Auditoriam, Albustan Palace, Sultanate of Oman
12 Feb.; at 20.00; Main Hall; Cairo Opera House, Egypt
15 Feb.; at 19.00; Great Hall; Bibliotheca Alexandrina, Egypt
19 Feb.; at 16.30; Auditorium Emile Bustani, Hotel Al Bustan, Beit Mery, Lebanon
Five musicians, principals of the Brandenburg Symphony, have put together an unusual ensemble as a result of a desire to experiment with new sounds. Through its music, the Jacaranda Ensemble builds a bridge between the cultures of the world. The positive response of the public as well as international respect has confirmed the unusual concept of the Jacaranda Ensemble.
[unex_ce_button id="content_2zl650u9x" button_text_color="#ffffff" button_font="custom_one" button_font_size="26px" button_width="full_width" button_alignment="center" button_text_spacing="15px" button_bg_color="#000000" button_padding="120px 0px 120px 0px" button_border_width="0px" button_border_color="#000000" button_border_radius="0px" button_text_hover_color="#ffffff" button_text_spacing_hover="15px" button_bg_hover_color="#2d2d2d" button_border_hover_color="#000000" button_link="jacaranda-ensemble" button_link_type="url" button_link_target="_self" has_container="" in_column=""]MORE EDUCATIONAL EVENTS[/ce_button]